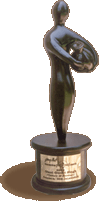 The more I heard about him, since I was in a school, the more I read him, the more I wanted to know him. Today, I am very proud that I am announcing that the person being honoured by the Godrej No. 1 Doordarshan Panj Pani Sanman 2005 for contribution to the Punjabi heritage and culture is Giani Gurdit Singh," said Satinder Satti, a popular TV artiste.

"Much of our heritage and culture would have been lost had it not been for personalities like Giani Gurdit Singh who reminds the coming generations of their roots and culture. It is because of his immense contribution to the heritage and culture of Punjab that Doordarshan is honouring Giani Gurdit Singh," she added. Satti was the compere at a function held by Doordarshan Kendra, Jalandhar, to honour eminent Punjabis.

Doordarshan had conferred the award on a number of prominent Punjabis for their contribution to various facets of life in Punjab. The septuagenarian is the author of one of the most popular and acclaimed Punjabi books, Mera Pind, that has been in continuous print since 1961.


Along with Giani Gurdit Singh, those honoured at Phagwara, near Jalandhar, on Saturday, May 28, were eminent journalist Kuldeep Nayyar, singer Surinder Kaur, playwright Harcharan Singh, creator of the Rock Garden Nek Chand and Budh Singh, who has set up the Guru Nanak Mission Hospital.

Govardhan Sharma, Director, Doordarshan, Jalandhar, gave away the award to Giani Gurdit Singh. The citation read out at the function said: "Doordarshan feels honoured in honouring with the Panj Pani Sanman the master of magical expression, Giani Gurdit Singh, who, by his enchanting words in his immortal work Mera Pind, has captured the aroma of the land of Punjab, the language of its people, their psyche, folklore and lifestyle.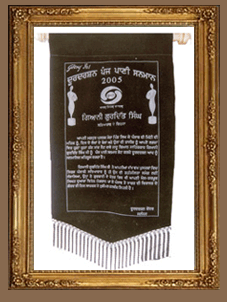 "Giani Gurdit Singh, in his various books, has preserved Punjabi culture, making immense contribution in recording its glorious heritage in all its hues. He has also made meaningful and definitive contribution to the glory of the legacy of Punjab and India with his extensively-researched writing in the field of Gurbani."
A short film on the writer was also shown after the citation was read. Shot at Giani Gurdit Singh's home in Chandigarh, the presentation called him an eminent literature and researcher.
"He not only pursued knowledge, but also disbursed it widely through his writings." It dwelt on his contribution to journalism (he established Parkash, the first daily Punjabi newspaper in PEPSU in 1947) and research (through the Singh Sabha Patrika magazine that he founded in 1973). His various books, including the three-volume Punjab Dian Lok Kahanian, Punjabi Jiwan te Sabhyachar, a poetic compilation called Bhavan de Des, Ithas Sri Guru Granth Sahib, Bhagat Bani Bhag and the over 20 biographies he has penned came in for particular mention. His having been honoured by various national and international organisations, including UNESCO, was also recalled.
Addressing the audience after receiving the award, Giani Gurdit Singh said: Doordarshan has brought a number of accomplished Punjabis near each other and in the limelight. He pointed out that there was a paucity of interest in literature in Punjab and in the Punjabi language. He said the function was a call to the Punjabis to focus more on their language, so that it gets its rightful place among progressive languages.
Satti's comment that Giani Gurdit Singh was a chanan munara (lighthouse) of society, summed up the mood of the gathering. Others who were honoured at the function are Prof Pritam Singh (education), Dalip Kaur Tiwana (literature), Dr S. S. Johl (agriculture), Dr Inderjit Kaur (philanthropy), B. R. Chopra (film-making), Kartar Singh Duggal (broadcasting), Milkha Singh (sport), Nek Chand (fine arts), Dr S. S. Goraya (science and technology) and Dr Hardas Singh (medicine and treatment). Of these awardees, Milkha Singh, B. R. Chopra and Dr S. S. Goraya did not receive the awards in person.

Read related report