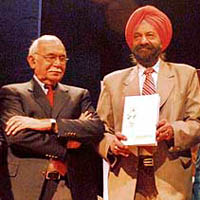 S.D. Sharma
Chandigarh, February 24
"Endowed with an intuitive wisdom, vast spiritual knowledge and prolific writing prowess, a visionary Giani Gurdit Singh was undeniably a myriad minded proponent of social and cultural ethics," observed the chief guest Tarlochan Singh MP and former chairman of Minority Commission while releasing a commemorative Punjabi book titled "Gurdit Singh: 1923-2007" at a largely attended function at the Punjab Kala Bhavan auditorium.
The book indeed is a humble tribute to the sagely author, journalist and religious scholar by his family and admirers his unique scholarly research works on Sikh religion through ten of his literary treatises.
"His genius was at the pinnacle of its glory as he sculpted the magna opus 'Mera Pind' through which Giani ji had translated the soul of Punjabi pastoral life", claimed Tarlochan Singh. Seldom had the 'Malvai dialect' been so felicitously used in close proximity with the folk idioms which lifted it to spectacular heights. Giani ji had edited 'Parkash' and 'Singh Sabha Patrika' for 15 years besides carrying extensive research for his books on Bhagat Bani and Mundavani, rated as milestones.
An art historian of international eminence and a Padma Bhushan awardee Prof B.N. Goswamy in a nicely worded speech lauded Giani ji as an institution unto himself.
He was a class apart as a human being deeply grounded in utmost humility despite being a vast ocean of knowledge on religious scriptures, literature and Punjabi folklore, sharing his discussion on nath yogis, with him.
Earlier, Prof Rajpal Singh, secretary general, Punjab Arts Council, and Poonam Singh, editor Preetlari, read excerpts from the much-acclaimed 'Mera Pind'.
Among the prominent people who attended the book release were Justice S.S. Sodhi, Gen Himmat Singh Gill, and many contributors to the book, including Prof H.S. Gill, Prof Emeritus JNU, Delhi, Niranjan Singh Sathi, Prof Bhupinder Singh Khera and Dr Man Singh Nirankari, Bhayee Sikandar Singh Bagrian.
The 230-page book has articles by 50 eminent scholars, largely in Punjabi. The four sections cover his personality, the literature that he produced, his religious scholarship and memories, called Sakshiat, Sahit, Dharam and Yaadan.
The English section has 54-pages. It has been edited by Inderjit Kaur, former vice-chancellor, Punjabi University, Patiala, and former chairperson, Staff Selection Commission New Delhi, Gianiji's wife, his son and author Roopinder Singh.
Scholars and people who knew Giani Gurdit Singh have contributed to the volume from all over the world and prominent writers include Jathedar Joginder Singh Vedanti, Jathedar, Akal Takht, prominent academicians like Prof. Pritam Singh, Prof. Haribhajan Singh and Prof Gurinder Singh Mann, Dr Karnail Singh Thind, Dr Nahar Singh and Dr Bhupinder Singh Khera.
Messages by Surjit Singh Barnala, Governor of Tamil Nadu; Parkash Singh Badal, Chief Minister, Punjab, Dr Jaspal Singh, vice-chancellor, Punjabi University, Patiala and Dr Jai Rup Singh, vice-chancellor, Guru Nanak Dev University, Amritsar have been printed in the volume.
Journalists, including Mohinder Singh, A.J. Philip, Nirupama Dutt and other prominent people from the Punjabi diaspora, including Bhai Harbans Lal, Dr I.J. Singh and Rajwant Singh have also contributed articles on Giani Gurdit Singh and his work.